Styling Shalwar Kameez is not only important for adults but also for the fashion-conscious Pakistani kids. The traditional attire of Shalwar Kameez holds a special place in our culture and it's essential to find stylish ways to wear it. In this article, we will explore 5 fashionable ways to rock the Shalwar Kameez look for Pakistani kids. From pairing it with trendy accessories to experimenting with different colors and cuts, there are endless possibilities to showcase their unique style while staying true to our heritage. Let's dive into the exciting world of fashion and discover how to make Shalwar Kameez a stylish statement for the younger generation.
Look 1: Traditional Shalwar Kameez with Dupatta
The traditional shalwar kameez is a classic Indian and Pakistani attire that exudes elegance and grace. One of the key elements of this outfit is the dupatta, a long scarf-like piece of fabric that adds a touch of sophistication to the overall look.
The dupatta holds great cultural significance and serves multiple purposes. It can be draped over the shoulders, wrapped around the neck, or simply carried gracefully. Apart from enhancing the overall style of the outfit, the dupatta also provides modesty and serves as a protective cover.
There are several stylish ways to wear the dupatta with your shalwar kameez. You can experiment with different draping styles, such as the classic shoulder drape, the front cross, or the one-sided pallu. Choose a fabric that complements your outfit, such as chiffon for a delicate and feminine allure, or silk for a more regal and majestic appearance.
When selecting the color of your dupatta, consider the overall color scheme of your shalwar kameez. Opt for contrasting colors to create a striking contrast, or go for complementary shades for a more harmonious look. Don't be afraid to experiment with bold prints or intricate embroidery to add a touch of personality to your ensemble.
Incorporating a dupatta into your traditional shalwar kameez outfit not only adds a touch of grace and elegance but also allows you to showcase your personal style. Experiment with different draping styles, fabrics, and colors to create a unique and stylish look that reflects your individuality.
Look 2: Salwar Suit with Long Kurta
Another stylish way to wear a shalwar kameez is by opting for a salwar suit with a long kurta. This particular style is gaining popularity among Indian and Pakistani women due to its versatility for different occasions.
The combination of a long kurta with loose pants, known as salwar, creates an elegant and sophisticated look. The long kurta is usually ankle-length and can be adorned with beautiful embroidery, sequins, or print patterns, adding a touch of glamour to the outfit.
This style of shalwar kameez is perfect for both casual and formal occasions. For a more casual look, you can choose a long kurta in a light fabric such as cotton or linen, paired with plain or printed salwar pants. Add a colorful dupatta and accessorize with some statement jewelry to complete the look.
If you're attending a special event or a wedding, opt for a long kurta in a rich fabric like silk or velvet, embellished with heavy embroidery or intricate designs. Pair it with matching salwar pants and a beautifully draped dupatta to create a regal and majestic appearance.
The salwar suit with a long kurta offers endless possibilities for experimentation. You can play with different colors, prints, and designs to reflect your personal style and make a fashion statement. This versatile outfit is sure to make you stand out at any occasion.
Look 3: Westernized Salwar Kameez for Kids
In addition to its popularity among adults, the traditional salwar kameez has also received a modern twist to cater to the fashion-forward kids. This westernized version of the salwar kameez is a perfect blend of traditional elements with a touch of contemporary style, making it a trendy choice for young ones.
One of the key features of the westernized salwar kameez for kids is the incorporation of western elements into the outfit. The traditional loose pants, known as salwar, are replaced with more fitted and stylish trousers or even denim for a more modern look. The kameez, which is the long tunic, is often designed with asymmetrical hemlines or even in the form of a trendy shirt for a chic appearance.
Different cuts and styles are also used to make the westernized salwar kameez more trendy. From peplum tops to high-low hemlines, there are numerous options available to suit the fashion preferences of little ones. The use of vibrant prints, pastel shades, and solid colors further adds to the modern appeal of the outfit.
This westernized salwar kameez for kids not only preserves the essence of the traditional attire but also allows them to express their personal style in a more contemporary way. Whether it's for festive occasions, weddings, or casual outings, this trendy version of the salwar kameez is sure to make kids stand out with their fashionable flair.
Look 4: Indo-Western Fusion Style Outfit
Creating an Indo-Western fusion style outfit for Pakistani kids is a great way to blend traditional shalwar kameez with western attire, resulting in a unique and stylish look. To achieve this fashionable ensemble, follow these simple steps:
Start with a traditional shalwar kameez: Choose a colorful and well-fitted shalwar kameez in a vibrant shade like royal blue or fuchsia. Opt for a kameez with an asymmetrical hemline or a trendy shirt-style top for a modern touch.
Pair with cropped pants: Instead of the traditional loose shalwar, go for a pair of cropped pants. Choose a solid-colored or printed pair of trousers that complements the color of the kameez. This will elevate the outfit's style quotient while incorporating western elements.
Add western accessories: To further fuse the traditional and western styles, accessorize the ensemble with trendy western accessories. Layering necklaces, stylish bracelets, and a pair of statement earrings can add an element of contemporary flair to the outfit.
Complete the look with western footwear: Choose a pair of stylish and comfortable western footwear to complement the Indo-Western fusion outfit. Ballet flats, sandals, or even sneakers can work well, depending on the occasion and personal style.
By incorporating elements from both traditional shalwar kameez and western attire, Pakistani kids can rock an Indo-Western fusion style that truly stands out.
Look 5: Casual Shalwar Kameez Look
When it comes to creating a casual and comfortable look for Pakistani kids, a loose-fitting Shalwar Kameez is the perfect option. Opt for a straight kurta in a solid or pastel color, ensuring maximum comfort and ease of movement for active little ones.
Start by choosing a loose-fitting Shalwar in a soft and breathable fabric like cotton. The loose pants allow freedom of movement, making it perfect for playtime. Pair it with a straight kurta in a complementary color. Keep the design simple and minimal, allowing the focus to be on the comfort and style.
Adding accessories can enhance the overall look. Consider colorful juttis or traditional Pakistani sandals to complete the outfit. These footwear options not only add a touch of style but also provide comfort and flexibility.
For a little extra flair, choose statement earrings or colorful bangles that match the color of the kurta. These accessories add a playful and trendy touch to the outfit, making it perfect for casual outings or family gatherings.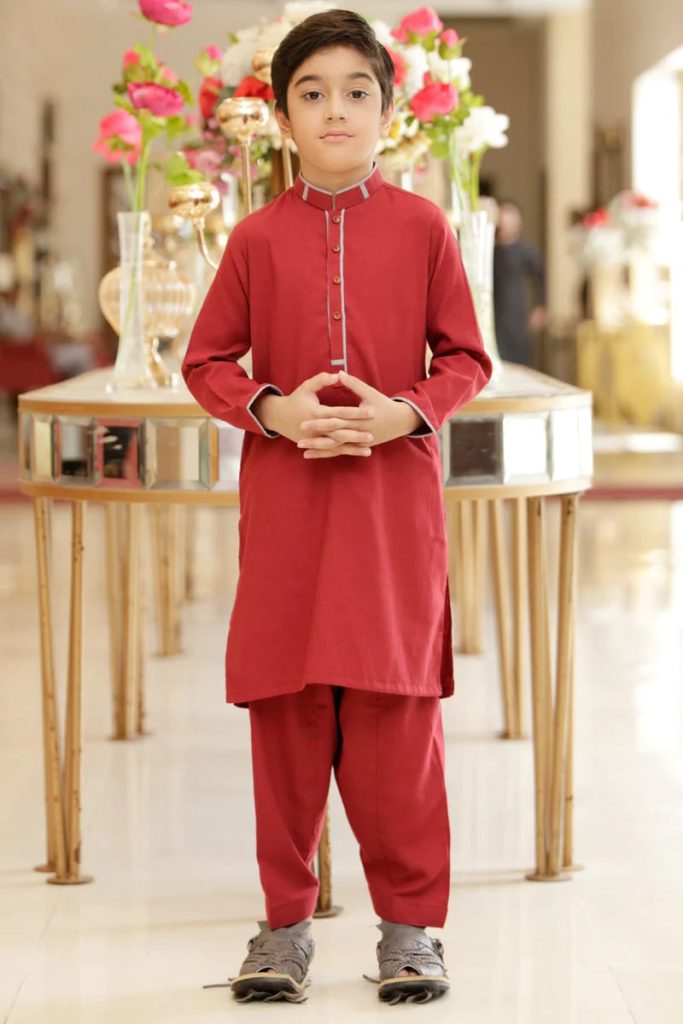 Conclusion
In conclusion, when it comes to wearing a shalwar kameez, there are several stylish options to choose from. Whether you opt for a straight kurta or an asymmetrical hemline, there is a style to suit every taste. The key is to prioritize comfort while still looking fashionable. Loose-fitting pants and soft, breathable fabrics like cotton are ideal for everyday wear. Adding accessories like colorful juttis or statement earrings can elevate the overall look and add a touch of personality. With a wide range of designs and colors available, shalwar kameez offers versatility and elegance. Whether it's for casual outings or traditional gatherings, this traditional attire never fails to make a stylish statement.